These are African Road Stories of transformation through friendship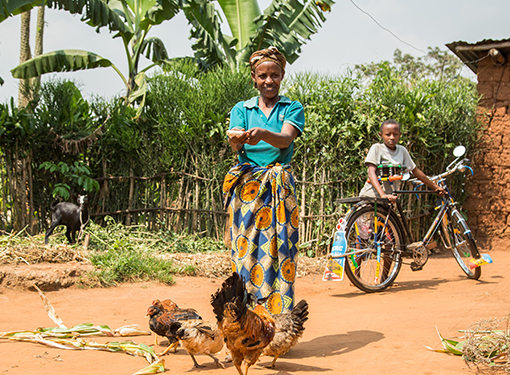 …like Sidat, a genocide widow and a member of the All Souls Women's Cooperative. After receiving VICOBA training, Sidat expanded her business from chickens for eggs, to goats for milk, to a bike for deliveries. Today, Sidat can provide nutritious food for her family and has purchased health insurance for herself, her three children, and her mother.
"Before joining All Souls Cooperative, I felt lonely and desperate, as if I might die tomorrow. I was always crying; without joy, without hope. But when I joined the cooperative, I started enjoying life and gaining hope inside of me. That's why I can manage to work – without joy and hope, you are not able to work"
… and Ernest, a member of Togetherness Youth Cooperative. A genocide orphan who used to live on the streets, Ernest now lives together with other youth in a child-headed household, growing bananas, studying at school, and MOST importantly, playing soccer.
"Before Togetherness, I was really struggling because I had nowhere to live. Sometimes I would sleep in a house; other days I would sleep in the bush or on the street. Sometimes I could end the day without having food. I would go sit in town and beg. I could go to church and shout and pray. Since Togetherness began, there has been a transformation in our lives. There is joy among us. We get together now we can have fun, play soccer, dance, and activities to keep busy. We feel that life is going on very well."