VICOBA – Changing hearts, minds and savings accounts
The brainchild of David Clemy, a Ugandan leader, Village Community Banking (VICOBA) is transforming East African communities. In partnership with African Road, this training has equipped women, men and children with saving, banking and business tools.
BUT it doesn't just teach these life skills — it changes mindsets. The magic of VICOBA is that it helps people dream bigger.
By allowing people to dream, it shifts focus from what they 'need' to what they 'have' right now. With this shift comes empowerment, positive attitudes, bigger and better savings and real change in the lives of communities and individuals.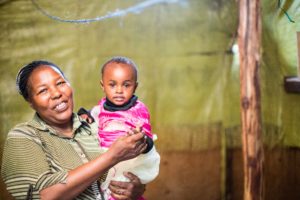 One inspirational example is Mary, a woman living in Sinai slum in Nairobi. After completing VICOBA training, she started a baby care business in her local community. She has established a strong reputation for cleanliness, safety, and nutrition. The business is now thriving, and she has saved 240 dollars in 5 months.
Her dream is to buy land so that she can start a farming business.
VICOBA, like African Road, is fueled and energized by action that creates long-term, sustainable change, moving away from aid and towards empowerment.