Guest post by Glenda Montgomery, 2017 Learning Trip participant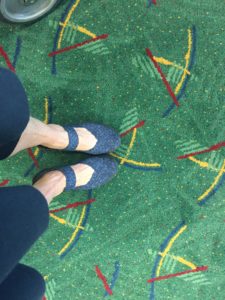 The mandatory "feet on the carpet photo" at PDX marks my return to Portland from an extraordinary adventure with African Road this summer. During two weeks in July, a small group of us from the States was privileged to be guided by Kelly Bean into the African Road world of long established friendships with African locals, where we met all people whose lives African Road has touched, from drivers to waitresses, jewelry makers to potential Nobel Peace prizewinners. Because we were given the "inside track" by African Road, we had access to among the most incredible human beings I have ever known.
Africa is a long way from Portland, and after many hours in the air, we disembarked into a land that truly felt a world away. The sights, smells, and sensations were as rich and exotic as our adventures. On this African journey I was confronted by the some of the most tragic situations, both historical and contemporary… ones that my head and heart had difficulty comprehending and acknowledging could be true. And also on this journey, I met the most extraordinary of individuals, ones that my head and heart had a difficult time comprehending could so commit themselves…their intellect, their energy, their tenacity, their perseverance, their whole heart and whole beings to making positive changes in their communities. As a result, I came away with a profound sense of optimism and gratitude, feeling that even given the worst, there are shining stars who won't ever give up trying to make life better in the world around them.
One of the people who fostered that amazement and renewed faith in human beings was Consoler, who operates the New Hope for Girls home for girls aged 8-20 in a poor section of the rambling city of Dar Es Salaam, Tanzania. As an escaped domestic slave who was able to leave her abusive situation at 15 years old only because she was beaten so badly she was hospitalized for six months, Consoler has vowed to spend her life assisting others who have managed to escape the brutal realities of modern domestic and sexual slavery but who end up on the streets with nowhere to turn. In fact, unable to turn a blind eye to the suffering of girls in this predicament, Consoler hid 4 escaped girls in her dorm room at university, feeding them from extras from the dormitory cafeteria. She explained to Eliya, her then boyfriend that if they were to be married, he could expect more of the same… that she was committed to taking in these girls and others in their shoes. 10 years later, Consoler and her now husband Eliya have a compound where 34 girls and young women are safe. I saw with my own eyes the joy, intelligence, youthful exuberance of these loving girls, who know that no one will hurt them again. They have a clean, organized, peaceful household in which all girls talents and efforts are important. They can rely on being encouraged, being nurtured and secure. The feeling of love and acceptance was awe-inspiring. It may seem miraculous to read that two people can successfully raise 34 girls, but believe me, it feels even more miraculous to be there in person! Consoler is incredible, as is her devoted husband, Eliya!
Eliya does admit that housing these girls costs a fair amount and that each is encouraged to go to school for as long as she can, which means tuition and uniform costs. Then there is something that we don't think of, but as a "father" of 34 African girls, he must think of…dowry costs….! Eliya's work at the United States Embassy downtown brings in some money but that leaves Consoler alone. They can't rely solely on his income, and they don't want to rely on donations; they want to be self sufficient. And so, Consoler and and Eliya have launched a new business…"African New-Hope Sewing Supply Shop (AFN)".
African Road is partnering to help them to fully launch this wholesale fabric and notions store, which will supply needed items to local seamstresses who don't have close access to what they need. Proceeds to alleviate the many costs associated with running the New Hope for Girls and the business itself will provide an opportunity for the girls to learn finance and bookkeeping skills as well as retail experience. The pride of moving toward self sufficiency through opening AFN is evident, but I know that this extraordinary couple's venture needs a little bit of a boost to get it on its feet.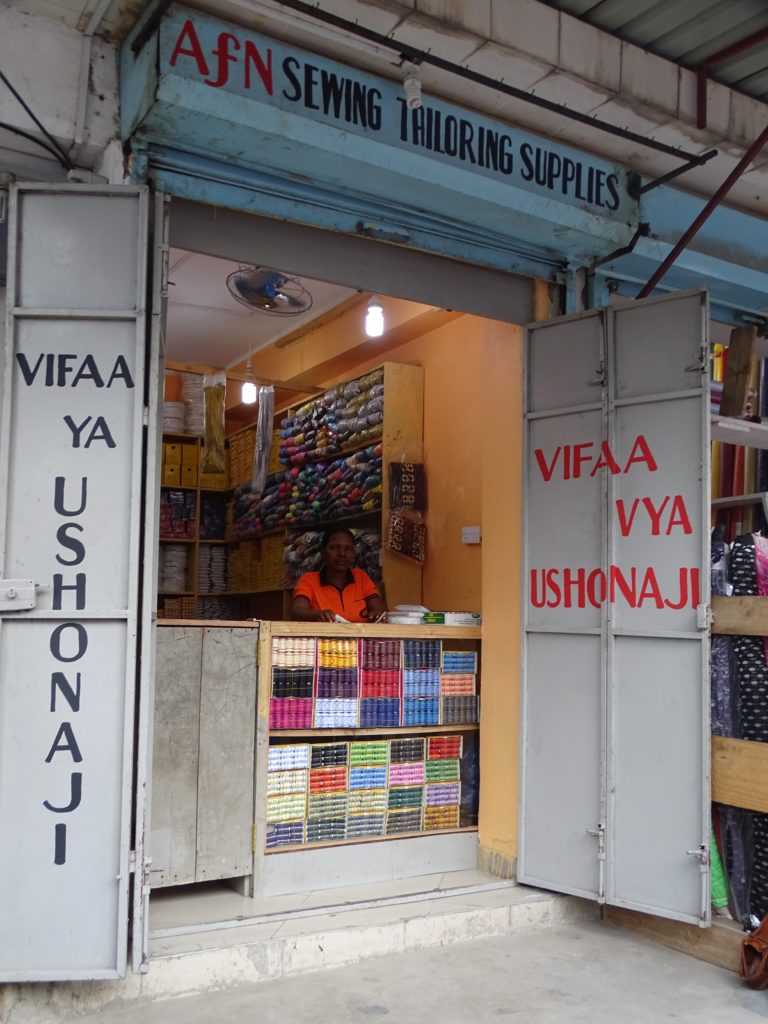 My feet are now in Portland, but a big part of my heart remains with the joyful girls in Dar Es Salaam and shines in admiration for tireless Consoler and Eliya. I hope that individuals like you from African Road, no matter where your feet are planted today, will take an imaginary walk in the shoes of Consoler and Eliya and will be inspired to give to the capital campaign, to encourage and sustain these resilient girls on their journey of New Hope.
This sewing supply shop to bring sustainability for New Hope for Girls is only $4000 away from completion. Become a part of this story of hope by donating today!